Dipper is a mechanically, and electrically modified dolphin known as trained by the army to fight for good. It is a "highly trained aquatic soldier" with the code of 404-A according to The Army. The League of Super Evil mistook it for a ferocious shark and stole it to protect their inflatable pool.
Character Description
Edit
Appearance
Edit
Dipper appears to be a normal, friendly dolphin, with a light blue color scheme and black beady eyes.
Behavior
Edit
It can only speak through the chirping noises a dolphin makes, and in general acts like a dolphin, albeit a hyper-intelligent one. It is also able to stand on its flipper and walk around outside of water, similar to a human.
Relationships
Edit
It considers the League of Super Evil as its enemy, and meets them with determined, destructive force.
It is friends with Jimmy, the neighborhood kid.
Skills & Abilities
Edit
It is proficient in disguise and able to act similar to a human and wear human clothes. It is also trained in combat. For some reason it is also able to fly, as high up as an airplane.
Equipment
Edit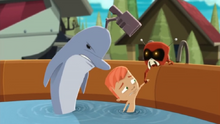 Laser Blaster - a square shaped gun that extends from Dipper's head, and shoots red beams able to turn the target into charcoal
A Missile Launcher - there is a full set of these that also can extend from Dipper's head, and shoot homing missiles at the target.
Fish-shaped Hand Grenades
Core Episodes
Edit