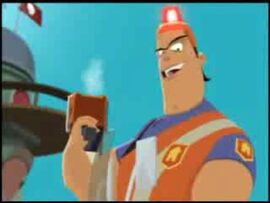 Justice Gene is a character in League of Super Evil who is convinced that every path he takes in life will lead him to become a super hero, but sucks at doing his jobs. He's been a Public Security Officer, a Museum Night Guard, a Warehouse Cop, a Pronto Pizza Delivery Guy, a Janitor at the Halls of Glory (twice), and at one point a Probationary Minion for LOSE known as Injustice Gene. All of these jobs he's been fired from at least once. Gene has been featured in three episodes of the show so far, all of which he is trying to do his job and is annoying the League.
Appearances
Edit
Ice Creamed (possibly clinging onto the ice cream truck saying, "Tofu pops are tasty!".)
Ad blocker interference detected!
Wikia is a free-to-use site that makes money from advertising. We have a modified experience for viewers using ad blockers

Wikia is not accessible if you've made further modifications. Remove the custom ad blocker rule(s) and the page will load as expected.