The Linemaster is a young villain with an army of Linebots to do his bidding!
Character Description
Edit
Appearance
Edit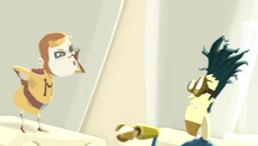 He is a short, blond kid with a yellow and red color scheme. He wears goggles held together with tape, a yellow tunic with an emblem representing a velvet line divider, and a red belt, shoes, and hood. He also has fancy red and gold pauldrons on his shoulders.
Behavior
Edit
Relationships
Edit
For some reason, the Linemaster is kept in one of the glass cases as part of Glory Guy's trophy room in the Halls of Glory.
Core Episodes
Edit
Season 1