The fifth combined episode of season one in the League of Super Evil TV series.
Slam Dunked - Summary
Edit
After being denied entry to the neighborhood slam-dunk competition for being too short, Voltar returns in a giant Super S Atomic Shuriken Typhoon Robot to win the competition. Meanwhile, when the army finds out a giant Shuriken Robot owned by Commander Chaos is terrorizing a suburban playground, they call in the super enthusiastic Force Fighters V for an epic super-robot battle to the finish.
Evilest in Show - Summary
Edit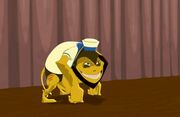 When Voltar finds out about a neighborhood pet contest, he's desperate to get his tiny hands on the shiny trophy, and enters Doomageddon. They assume the pan-dimensional Hell Hound is a shoe-in to win, but Doom meets his match in a particularly vicious bunny.